Places of Interest :: Uttarey
Gumpadara -Mangheem Thegu, Lameni Pokhari, Kal Kamal Pokhari
Gumpadara -Mangheem Thegu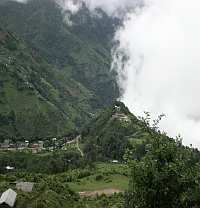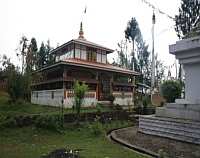 About 10 to 15 minutes of walk from Uttarey valley, there is a beautiful hill top view point called as Gumpa Dara as well as Mangheem Thegu, where one Kagyut Monastery and one Yuma Mangheem are constructed for worshipping and meditations.
We can have the panoramic view of Singalila Range –Phoktey  Dara, Cheewa Fangzong  La Pass in the West, Ravangla, Phadamchen and the range of Nathula Pass in the East, Neydham (Dichenphu) Dara in the North and Barsey Rhododendron and Wild Life Sanctuary in the South.
Around the Yuma Mangheem Thegu and the Monastery we find ample of ruined Maaney Stone Relics written in Tibetan scripts.  It is believed that the Second King of Sikkim - Tensung Namgyal married the princes Hangwa Mukma daughter of Yoyo Hang , th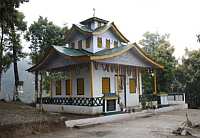 e Limboo King of Arun-Tambar in Nepal, had this the worshipping as well as halting place for their entourage walk to Nepal from Sikkim during 18th century through this valley.
---
Lameni Pokhari

At the altitude of 8100 ft, 15 minutes of drive and 45 minutes of footpath walking distance from Uttarey, there is a small but beautiful holy lake and a beautiful tourist view point called – "LAMENI POKHARI" around which a mind blowing and entertaining "TENZINNG- HILLARY PARK" to be constructed is being proposed by the local people to the Government and the work also has been under process.
A majestic view of sunrise and a snow clad mountain ranges of Nathula and Jelepla Pass in the East and some part of Kanchengdzonga Range in the North can be enjoyed from this beautiful view point during the clear weather days.
Lameni Pokhari View Point falls in the border boundary of Barsey Rhododendron and Wild Life Sanctuary.  There are plenty of wild animals like Ghoral, Deer, Bucks, Wild Boars, Hisped hare, Kalej Peasants, Red Panda and Wild Bear etc.
Lameni Pokhari View Point is an ideal place for Bird Watchers as many species of local as well as the migratory birds are available in the sanctuary. This Pokhari  is the junction or the meeting point for all the above wild animals and birds to meet with their thirst one after another.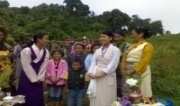 This place and around is really a very famous and rich in medicinal herbal plants as one big Departmental Herbal Nursery is there at "Tertchey Patal" planting, producing and supplying different types of herbal medicines.  The local people normally make their treatment by using these natural and organic herbal medicinal plants.
Lameni Pokhari and around is dominated by the Sherpa tribal community.  There are still some Sherpa old porters who had served Tenzing Sherpa during his expedition and while passing through Indo-Nepal border Chewa Bhanjyongla Pass.  The Sherpa people are really hard workers, so sober and very gentle.  They are rich in their culture and traditions.
---
Kal Kamal Pokhari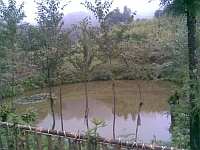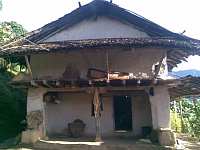 In the just corner of Sherpa Village towards Barsey Trekking Trail, there lies a small but beautiful lake  on the top of Upper Mukrung Rai Heritage Village, known as Kal Kamal Pokhari and normally the people used to say as Kal Pokhari  only. This lake is a sacred and so believing as every people from around go for the Praying and offerings to fulfill their wish.
All rights reserved by [Uttarey Eco-tourism Development and Service Co-operative Society Limited.]
Best viewed in IE6+ with 1024 X 768 pixels. Created and cared by Techno Developers Group