Places of Interest :: Uttarey
Thulo Dhap, Deoningaly Dhap, Barsey
Thulo Dhap (2,800 Mt.)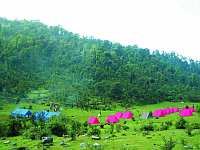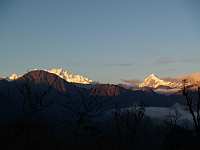 This valley is one of the beautiful  camp site in the Singalila Range Trekking Trail with its special of warmness,  calmness, peace, natural  scenic beauty and peeping mountain view  of Mt. Khangchendzonga range located within the Barsey Rhododendron and Wild Life Sanctuary in West Sikkim. Many species of Rhododendron like R.Niveum, R.Arboreum, R.Dendrobeum, R. Lecosceptrum etc. bloom here during the month of April – May making this Valley adorned  as a beautiful bride enjoying with the chirping songs of the birds. This place is very famous for one newly discovered medicinal plant called as Taxus Vegoda which is used for the treatment of Cancer Patient. This valley is also famous for the nature habitat of the beautiful Himalayan animal Red Panda, the State Animal of Sikkim famous British Botanist  Dr, J Hooker and the famous Ornithologist Dr, Salim Ali writer of famous book  "The Birds of Sikkim"  have visited this area and studied in 20th Century .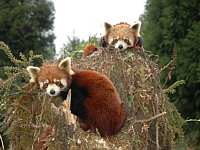 ---
Deoningaly Dhap (10,000 Ft.)
Approximately  5 kilometers  of  walk  from Bega Village there lies a beautiful camp site called as "Deoningaly Dhap" located within the area of Barsey Rhododendron and  Wild Life Sanctuary. Apart from the Rhododendrons  this place is famous for one extinct species of  "bamboo thrives" called as "Deoningaly"  which is used by the local people to make bamboo cane and weavings  for domestic use. This place is also famous for the natural habitation of Wild Boar. As a mountain view point, this place is all the time blessed with the peeping  of Mt. Khangchendzonga. 
---
Barsey (10,200Ft.)
This is one of the beautiful Rhododendron Tourism Destination an extreme west Bengal in West District Sikkim, located after 3 km. of walk from Hilley. Barsey is famous for Rhododendron forest because of which the Govt. of Sikkim has officially notified this area as Barsey Rhododendron and Wild Life Sanctuary extending its boundary upto Chewabhanjyangla Pass. Barsey is one of the beautiful tourism nature camp from which one camp have the panoramic view of Mt. Khangchendzonga Range.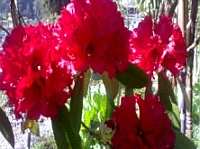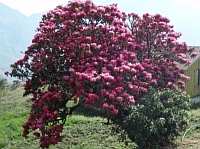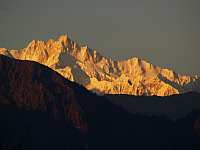 All rights reserved by [Uttarey Eco-tourism Development and Service Co-operative Society Limited.]
Best viewed in IE6+ with 1024 X 768 pixels. Created and cared by Techno Developers Group