Places of Interest :: Uttarey
Jhankri Dhunga, Gitang Saat Changey, Chhangay Twin Waterfalls
Jhankri Dhunga - Local Healer Rock (7,800Ft.)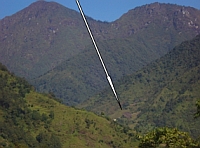 At the corner most part of Kalej valley and also regarded as most remote place devoid of any modern facilities, JHANKRI DHUNGA is a huge rock having its own historical significance and scenic beauty.  In olden days this place was said to be inhabited by "BAN JHANKRI"  the local "jungle deity"  and it was also said that during full moon one could hear the sound of drum called "Dhyangro"  beats as rituals performed by the Ban Jhankri.
---
Gitang  Saat Changey (7,100Ft.)
Saat Chhangey falls located in between Gitang and Bulung Villages having  its own significance.  It has breathtaking view during the summer season.  It is 10 kms from Dentam by road upto Gitang village and nearly 1km walk from this village.
---
Chhangay Twin Waterfalls (5,000ft.)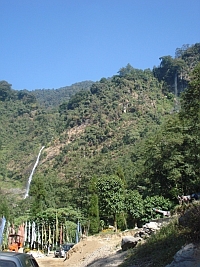 Artistically cascading from the height of nearly 300m,Twin Chhangay  Waterfall is one of the most beautiful water falls  in West Sikkim on the way to Uttarey from Pelling.  Easily approachable or located on the road bank, Chhangay fall has become one of the important tourist destinations for visitors.  The fall flows down from Ranidhunga through Chhangay village.  Chhangay falls is surrounded by Chhangay, Sapung and Bongten villages.  The extreme white of the fall actually looks like a long white mark on the green background of forest, if seen from the distance, a breathtaking sight for the visitors.
All rights reserved by [Uttarey Eco-tourism Development and Service Co-operative Society Limited.]
Best viewed in IE6+ with 1024 X 768 pixels. Created and cared by Techno Developers Group