Places for Pilgrimage :: Uttarey
Maainibass Fall, Neydham Holy Cave, Sita Dham
Maainibass Fall - Sacred Hidden Heaven Falls (7,900 Ft.)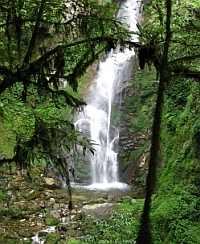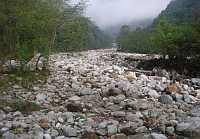 Isolated inside the lush green Rhododendron and oak forest, cascading from the height of nearly 250ft, Mainibaas is a Sacred Hidden Heavenly Falls.  It is situated hardly 200m right side of Uttarey – Chewabhanjyang trekking trail.  The sound produced by this falls is incomparable with any other falls, the freshness of the air in the area is unsurpassed.  On the right side of these falls and at the equal height there is a huge overhanging stone cliff where there are plenty of wild bee hive.  "Maain" in local language means" wax" and "baas" means the place to get "halt."  In the olden days the local people of the area used to adorn themselves by applying bee wax on their beard, mustache and hair. This is also an ideal habit for number of birds both local and migratory and their chirping in the morning sunshine adds value to this "Maainbaas Falls."  It is also an ideal place for bird watching.  Diversity of flora is also amazing and plenty of wild animals like Himalayan Black Bear, Red Panda, the State animal, Serow, Ghoral, Barking Deer, Yellow Throated Martin, Himalayan palm Civet, Large Indian Civet, Leopard and Hairy Brown Squirrel.
---
Neydham Holy Cave – Ney-Thaan Phokcku  (12,500 Ft.)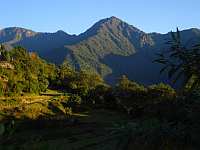 In Limboo Language "Ney" means "existing place" and "Thaan" means "devine enshrinment" ,i.e., "Ney- Thaan" means "place of devine enshrinement" and this place of pilgrimage later on became popularly known as Neydham is located on the ridge of the boundary line of two constituencies Maneybong-Dentam Constituency and Yangthang Constituency. Accordingly , as mentioned above " NEY DHAM " hill top is still called as " NEY-THAM DANRA".  The word "Neydham" is also formed with the combination of Lepcha and Nepali languages.  "Ney" in Lepcha language means "Holy Place" and "Dham" in Nepali language means "dwelling place of god and goddess". 
People believed that if one worshiped there with true faith, one's wishes are fulfilled.  With this regard, its comparison can be made with the famous holy place Nepal-Manokamna.  Its physical feature resembles with Kailash Parbat.  There is a beautiful cave in the middle of the main big cave with at least 20ft. deep from the entrance and there is also a place of performing prayer and worship.
---
Sita Dham (6,700Ft.)
Sitadham is a holy place which is located at upper Bongten.  It is believed that in the ancient times Goddess Sita had spent time and stayed here.  It is also believed that the Guru Padmasambhava had traveled in Sikkim along with a powerful woman called Dorjee Phamo goddess and meditated at this place.  Local people perform puja at this holy place and their desire is fulfilled as it is believed.  Various types of illness and problems are cured and solved.  It is surrounded by the dense forest in all the sides with a huge cave at the top of the village.
A perennial source of water stream is seen always flowing from the top of the cave, which is very clean and fresh.  During the full moon and the new moon the devotees perform puja.  There are three big stones on the top of the cave which is about 20-25m.  It is approachable by 3km of steep trek from the P.W.D Dentam – Sardong road.
All rights reserved by [Uttarey Eco-tourism Development and Service Co-operative Society Limited.]
Best viewed in IE6+ with 1024 X 768 pixels. Created and cared by Techno Developers Group