North Sikkim places of tourist interest
Kabi lungchok
Seven sisters waterfalls
Phensang monastery
Phodong monastery
Sirijunga yuma mangheem – mangshila
Rong lungten lee
Singhik
chungthang
Lachung
Thangu
Guru-dongmar lake (17,800ft.)
Tossar lake
Upcoming destinations
Tourist lodge & Cafeteria , Yumthang
Cafeteria at Bheem waterfalls, near Bichhu
Rock climbing centre at Mangan
Welcome to Sikkim :: the Land of Peace and Tranquility
A mountain state in the Indian Himalayas surrounded by the beautiful natural International border boundaries like Nepal in the West, Bhutan in the East and Tibet-China in the North is the "Land of smile" and "A Heaven on the Earth".
Spreading in 7096 sq.km, state of Sikkim constitutes only five percent(5%) of area in our nation – "India". But as blessed with a very rich natural resources containing twenty six percent (26 %) of bio-diversity Sikkim is a veritable bio-diverse hot spot.
It has 180 holy lakes ranging in an altitude from 200mtrs.to 8,585 Mts. (Khangchendzonga Range) and abundance of rivers accompanied by its moist air gives it a lush.
It is also beautifully adorned with 4,500 species of flowering plants, 23 varieties of bamboos,  424 species of herbal plants, 362 species of ferns, 16 species of conifers, 60 species of primulas,  36 species of Rhododendrons, 552 species of Orchids, It looks really fantastic and very beautiful – a natural garden when every species with different varieties of seasonal flowering plants blossoms in its season.
It enjoys with the singing and chirping of 552 species of birds, dances with fluttering of 690 species of butterflies, swims with 48 species of fish and plays with 150 types of mammals.
It promises the vistas of mountain and other numerous species of flora and fauna with its spectacular scenery and enviable climate, no wonder that every visitor dies to visit it.
Above all, Sikkim as the "Land of Smile" and also a promising state of India pays a warm welcome to its visitor guests through its gentle, sober and most smiling people though still backward but with happy and unique culture, tradition, godly and peace loving, simple and shy in nature, homely and friendly behaviors and over all with most honest and hospitable manners.
---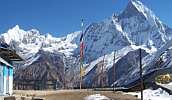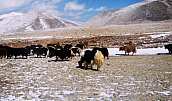 All rights reserved by [Uttarey Eco-tourism Development and Service Co-operative Society Limited.]
Best viewed in IE6+ with 1024 X 768 pixels. Created and cared by Techno Developers Group